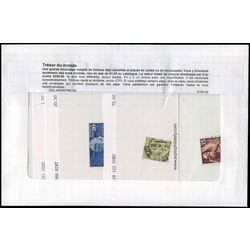 Worldwide Treasure - $300 in catalogue value
SKU: COL-WOWITRE100
Description
Worldwide Treasure - $300 in catalogue value

A large envelope filled with stamps already identified on cards or envelopes; all better stamps, nothing worth under $1.00 catalogue value. The total value is over $300.00 per envelope.  

All different stamps identified and priced with Scott catalogues. If there's a defect, on a stamp, the catalogue value is significantly lowered. All stamps are mint or used, but no CTO's. If you prefer to have stamps from specific countries, just tell us, and we will send you the envelope that best suits your desire! YOUR SATISFACTION IS GUARANTEED! Try it, and we are sure you will come back for another envelope since they are mostly made up of different stamps. Good luck!
---
Related Items