JOIN OUR STAMP CLUB TODAY !
Get 5% discount on every eligible item.
Receive a FREE stamps gift.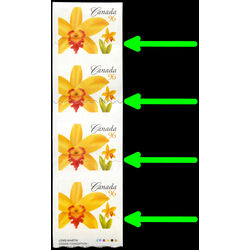 Superb misperforated end strip of four (#2245i) where the perforations were shifted up 5.5 mm resulting in the lower part of the flower to appear on the stamp beneath!!! This is the end strip with wavy die cut on bottom, occurring once per coil of 50 stamps!
Cv. $250.00
Offer ends in 2 days
Only 1 in Stock