JOIN OUR STAMP CLUB TODAY !
Get 5% discount on every eligible item.
Receive a FREE stamps gift.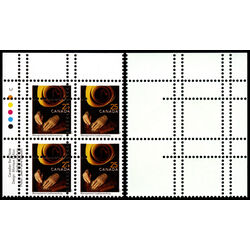 Spectacular upper left plate block (CBN, perforated selvedges) of the 25¢ Traditional Trades definitive with a STUNNING DOUBLE PERFORATION error affecting each stamp with an extra horizontal perforation line stopping at about a quarter of the right stamps, a very rare error!!!
Cv. $500.00
Offer ends 2022-08-31
Only 1 in Stock