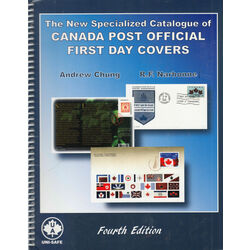 The New Specialized Catalogue of Canada Post Official First Day Covers
SKU: RCA-UNITRADE-FDC
Description
The New Specialized Catalogue of Canada Post Official First Day Covers. By andrew Chung & R.F. Narbonne. Fourth Edition.
This catalogue lists and prices all Official first Day Covers, Special Event Covers, Custom and Commemorative Envelopes issued by Canada Post to the end of 2015. Updated as well are first day covers produced and presented by Canada Post such as Replacement and Presentation First Day Covers, Stamp Launch Official First Day Covers and the Official First Day Cover Presentation Folders. 

New in this edition is Philatelic\Numismatic Covers on page 267.

Varieties discovered on first day covers such as variations of the day of issue cancellation and constant or semi-constant printing flaws discovered on commemorative or definitive issues are also listed and priced.
Brand: Unitrade
---
Related Items