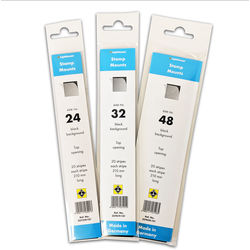 Protective Stamp Mounts LIGHTHOUSE-SF Top Opening - 20 strips ( Black )
SKU: RMO-B-TOP
Sorry, this item is sold out!
Description
LIGHTHOUSE SF mounts are simply the best and safest mount for your stamps, stamps blocks, mini-sheets, postal stationery etc. Offered in most popular sizes with various widths and heights. You cut the width to your requirements.


With black background.
Each strip is 217 mm long, unless otherwise noted
Maximum protection against sticking, discolouration, dust and humidity.
Stamps are held securely in place by strong clamp-type seal.
SF mounts are made from 100% polystyrene (free from softening agents, acids and stabilizing chemicals).
Antireflection coating prevents light interference.
Special adhesive on reverse side of film (simply moisten and stick down!).
Archival quality.
Brand: Lighthouse
---
Related Items