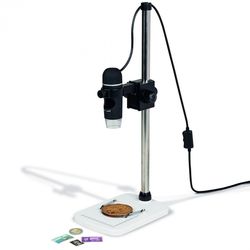 Premium USB Digital Microscope 10x-300x magnification (DM4) - Lighthouse
SKU: RMA-DM4-354396
Sorry, this item is sold out!
Description
Premium 5 megapixel USB digital microscope with up to 300x magnification for a multitude of applications such as for study, at school and for leisure. 
Check and detect details which are not visible to the naked eye, e.g. deviations from the original, minute details or damage. The software included in the package enables you to take photos and videos easily, which can then be saved and shared with others. The microscope and software are suitable for all standard computer systems with a USB port (PC, MAC and laptop). The microscope is simple to operate, making it suitable for school children, elderly people and less experienced computer users. 


Magnification: 10x – 300x
Resolution: 5 megapixels (visual)
Picture format: JPEG
Video format: AVI
Operating voltage: via USB 2.0 port
Light: 8 white LEDs (adjustable)
White balance: automatic
Operating system: Windows XP / Vista / 7 / 8 / 10, Mac OS 10.6 or later NOT COMPATIBLE WITH MAC OS CATALINA
Including software: MicroCapture Pro with measuring and calibration functions, multilingual (English, German, Spanish, French and more)
Size: 110 x 35 mm approx. (4 3/8 x 1 3/8" approx.)
Sturdy microscope stand with large base, measuring scale, fastening clips and an extra-high shaft
Package includes: USB digital microscope, stand for USB digital microscope, installation CD with driver software and complete instructions for use, quick start guide and calibrated ruler
Brand: Lighthouse