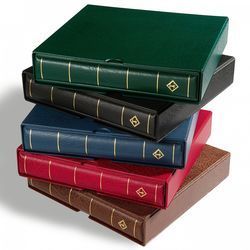 Lighthouse EXCELLENT DE 13 RINGBINDER
SKU: ABI-RINGBINDER
Sorry, this item is sold out!
Description
LIGHTHOUSE EXCELLENT DE RINGBINDER

The ever popular 13-ring binder for easy handling. Simple and secure mechanism. 2 large sheet-lifters ensure effortless, hasslefree closing. Colours: red, blue, green, brownand black. Textured leatherette. Capacity: up to 100 SF album pages. 
Overall size: 12 1/4 x 12 1/2 x 2 1/3" (310 x 315 x 60 mm). The 13 rings are 11/2" in diameter (approx. 35 mm).

Brand: Lighthouse