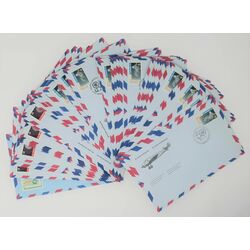 Complete set of 50 cachet covers for the 1986 Air Canada 50th Anniversary
SKU: COL-CANACOVERS50
Description
This souvenir package of 50 commemorative covers was prepared by the Canada Post Corporation to mark the beginning of Air Canada's 50th anniversary celebrations. The Philatelic issue is the smallest in Canadian postal history as only 5,000 sets were produced.

The set features cancellations from each of the 50 stops on the itinerary of a restored Trans-Canada Air Lines Lockheed 10A on a transcontinental flight from St. John's, Newfoundland to Vancouver, British Columbia, between April 10 and May 10, 1986. A U.S. destination, Seattle, is also included.

The first covers in the series carry the 34-cent stamp issued March 7, 1986, to commemorate Expo 86 and showing the Canadian pavillion. A second 34-cent stamp issued on May 2, date of the official opening of the world exposition, appears on covers issued after that date. A special cancellation to note the Seattle stop was approved by the U.S. postal authorities.