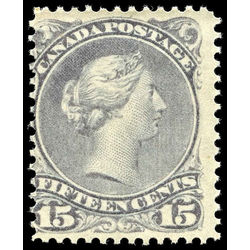 Canada Stamp #29vi - Queen Victoria (1868) 15¢
Cracked plate
SKU: CAN-0029VI
#29iv & 29vi Mint - Fine Never Hinged
(M-FNH-002)
#29vi (position 64) and #29iv (position 65), pair from cracked plate. Small corner bend (lower right). Show piece and probably unique in MNH as a pair.
Cv. $7,200.00
USD $2,950.00
---
Mint - Very Good Never Hinged
(M-VGNH-001)
Cracked plate (pos. 72)
This is a constant variety mentioned in the 1996 The Canadian Philatelist article by Jim Watt and Fred Fawn. They referred to it as a "spur above the 'O' of 'POSTAGE'" and plated it as position 72. This lovely copy shows the flaw clearly as a short spur or diagonal line in the top margin that originates from the outer frame line just above the "O" of "POSTAGE".
A very scarce stamp in this condition.
---
---
Mint - Very Fine Original Gum
(M-VFOG)
---
Mint - Fine Original Gum
(M-FOG)
Cv. $1,800.00
USD $1,170.00
---
Mint - Very Good Original Gum
(M-VGOG)
---
Mint - Space Filler
(M-FIL)
---
Used - Space Filler
(U-FIL)
---
Used - Unverified
(U-UNV)
---
Description
| | |
| --- | --- |
| Country | Canada |
| #Scott | 29vi |
| Issue | Large Queen |
| Name | Queen Victoria |
| Face Value | 15¢ |
| Date | 1868 |
| Variety | Cracked plate |
| Colour | Grey Violet |
| Perforation | 12 |
| Paper | Wove - Wove paper |
| Printer | British American Bank Note Company - Montreal & Ottawa |
---
Related Items