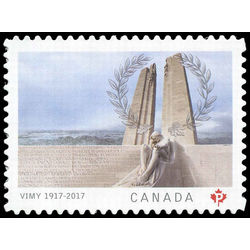 Canada Stamp #2982 - Battle of Vimy Ridge 100th Anniversary (2017) P (85¢)
SKU: CAN-2982
Mint - Very Fine Never Hinged
(M-VFNH)
---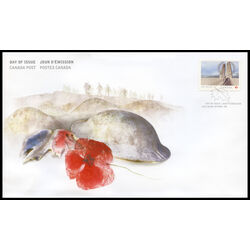 ---
Mint - Very Fine Never Hinged - Set of 7 Types Die Cut to Shape (#2983vii-xiii)
(M-VFNH-DCTS-SET)
The 2012 Vimy commemorative exists with 7 different perforation types. But the die cut to shape versions can only be obtained one at a time (randomly) inside a quarterly pack 2017/2!

Here is a quote from a footnote underneath the #2982 in the catalogue: "Complete sets of the die cut to shape singles are extremely difficult to obtain as one must purchase MANY Quarterly Packs (at $44.65 per pack)."

Indeed, if one was to be impossibly lucky and find all the different types inside only 7 packs, he would have had to spend at least $312,55 (but a lot more in practice)!

So, with this complete set of the 7 types, all die cut to shape, you could be one of the VERY FEW extremely lucky philatelists that owns it!!!
---
Description
| | |
| --- | --- |
| Country | Canada |
| #Scott | 2982 |
| Issue | Battle of Vimy Ridge 100th Anniversary / Joint Issue with France |
| Name | Battle of Vimy Ridge 100th Anniversary |
| Face Value | P (85¢) |
| Date | 2017-04-08 |
| Colour | Multicoloured |
| Perforation | SDC 13.4 |
| Paper | TRC - Tullis Russell Coatings (coated paper) |
| Tag | GT4 - General Tagging along all edges of stamp |
| Self-Adhesive | |
---
Related Items