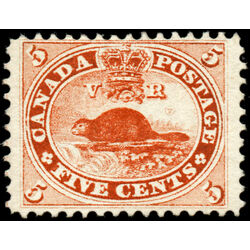 Canada Stamp #15 - Beaver (1859) 5¢
SKU: CAN-0015
Mint - Fine Original Gum with Certificate
(M-FOG-075)
Scarce mint copy with nice fresh printing, full original gum with hinge remnant, one blunt perforation at upper left, very minor stains on right margin, certified by AIEP's Richard Gratton, a very good looking copy!
---
Mint - Very Fine
(M-VF-062)
Nice unused 5¢ beaver with frame outside the perforations. We believe it was expertly regummed, otherwise it would have a superb never hinged gum.
---
Gorgeous fresh unused copy with a superb crisp printing, expertly regummed and reperforated at 12.5 at upper margin.
---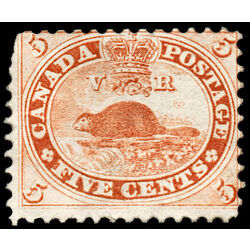 Mint - Fine with Faults
(M-F-083)
Faulty, but still a scarce unused copy.
---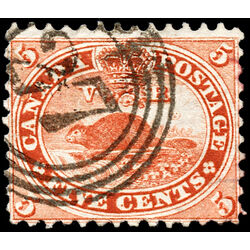 Used - Fine to Very Fine - Four Ring #27
(U-F-VF-082)
Superb four ring cancellation #27 (Ottawa)!
---
Used - Fine to Very Fine
(U-F-VF)
---
---
Mint - Very Fine Original Gum
(M-VFOG)
Cv. $2,000.00
USD $1,300.00
---
Mint - Fine Original Gum
(M-FOG)
---
Mint - Very Good Original Gum
(M-VGOG)
---
Mint - Space Filler
(M-FIL)
---
Used - Space Filler
(U-FIL)
---
Description
| | |
| --- | --- |
| Country | Canada |
| #Scott | 15 |
| Issue | First Cents |
| Name | Beaver |
| Face Value | 5¢ |
| Date | 1859-07 |
| Colour | Vermillion |
| Perforation | 11¾, 12 x 11¾, 12 |
| Paper | Wove - Wove paper |
| Printer | American Bank Note Company - New York |