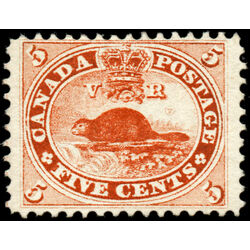 Canada Stamp #15 - Beaver (1859) 5¢
SKU: CAN-0015
Mint - Very Fine Original Gum with Certificate
(M-VFOG-056)
Fresh 5¢ beaver with greatly centred narrow margins and full original gum, certified by Vincent Graves Greene, a very scarce stamp in this condition!
---
Mint - Fine to Very Fine Original Gum
(M-F-VFOG-059)
Fresh mint copy, almost full original gum, hinge remnant, light pressed out crease at the lower right corner (gum side).
---
Mint - Fine Original Gum
(M-FOG-058)
Fresh, nicely centred with traces of original gum.
---
Mint - Very Fine
(M-VF-054)
Unused and nicely centred for a #15, but it was regummed which left some light stains on the front, but it still looking very fresh!
---
Mint - Very Fine
(M-VF-062)
Nice unused 5¢ beaver with frame outside the perforations. We believe it was expertly regummed, otherwise it would have a superb never hinged gum.
---
Beautiful unused copy, expertly regummed with a very fresh colour!
---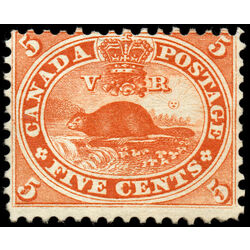 Unused, nice perforations, frame slightly touching on top, strong fresh vermilion colour.
---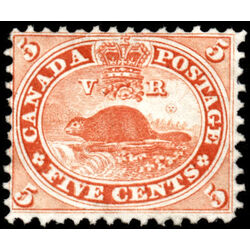 Fresh and nicely centred unused copy.
---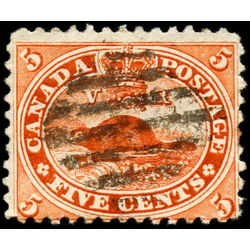 Used - Fine - Very Thick Paper (#15iii)
(U-F-060)
On thick hard paper (0.0038"), cv. $150!
---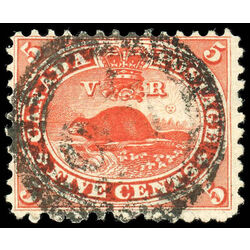 Four-ring numeral cancellation, possibly #46 (Stratford, U.C.), rarity factor 8/10!
---
Used - Fine to Very Fine
(U-F-VF)
---
---
Mint - Very Fine Original Gum
(M-VFOG)
Cv. $2,000.00
USD $1,300.00
---
Mint - Fine Original Gum
(M-FOG)
---
Mint - Very Good Original Gum
(M-VGOG)
---
Mint - Space Filler
(M-FIL)
---
Used - Space Filler
(U-FIL)
---
Description
| | |
| --- | --- |
| Country | Canada |
| #Scott | 15 |
| Issue | First Cents |
| Name | Beaver |
| Face Value | 5¢ |
| Date | 1859-07 |
| Colour | Vermillion |
| Perforation | 11¾, 12 x 11¾, 12 |
| Paper | Wove - Wove paper |
| Printer | American Bank Note Company - New York |