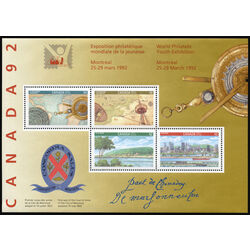 Canada Stamp #1407ai - Canada 92 (1992) $2.16
Limited souvenir Sheet of 4 with signature "Paul de Chomedey de Maisonneuve"
SKU: CAN-1407AI
Mint - Very Fine Never Hinged
(M-VFNH)
Very scare limited souvenir sheet of the Canada 92 issue with the "Paul de Chomedey de Maisonneuve" signature at bottom, which is also on Harrison paper (regular #1407a is on Coated paper). There were only 10,000 copies issued of this stamp, a lot less than the 400,00 copies that were issued for the regular version!
---
---
Description
Rare souvenir sheet showing the scarce 'Paul de Chomedy, De Maisonneuve' signature, this sheet is printed on Harrison paper instead of the coated paper used for the normal sheets, only 10,000 were issued.

Beware of examples being offered for sale where the blue signature has been forged. Note that this item must be on Harrison Paper.
Please be aware that practically all the copies of this stamp have a naturally "wrinkled" paper, this is not a flaw and is caused by the Harrison paper. In fact, copies who do not have these wrinkles can be suspected of being forgeries using the #1407a on Coated papers.
| | |
| --- | --- |
| Country | Canada |
| #Scott | 1407ai |
| Issue | Canada 92 |
| Name | Canada 92 |
| Face Value | $2.16 |
| Date | 1992-03-25 |
| Variety | Limited souvenir Sheet of 4 with signature "Paul de Chomedey de Maisonneuve" |
| Colour | Multicoloured |
| Perforation | 13.3 |
| Paper | HP - Harrison and Sons Inc. paper (greenish gum) |
| Tag | GT4 - General Tagging along all edges of stamp |
| Printer | Canadian Bank Note Company |
| Souvenir Sheet | |
---
Related Items