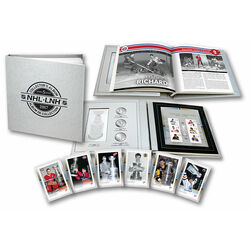 Canada Post - Thematic Collection # - 2017 NHL Collector's Album - 5 (2017)
SKU: COT-211
Description

A must for every NHL fan


The 2017 NHL Collector's Album details the exciting careers of six Canadian Hockey Legends, their extensive awards and achievements, and rare archival images. The six Canadian Hockey Legends are Maurice Richard, Jean Béliveau, Gordie Howe, Bobby Orr, Mario Lemieux et Wayne Gretzky.
- One of only 10,000 - features these exclusive, special edition collectibles


a full embossed and foiled commemorative pane of six Canadian Hockey Legends
A pack of six hockey card-sized souvenir sheets for all six stamps.
a silver-plated metal plaque that is individually embossed with a detailed profile of the Stanley Cup
three finely engraved silver-plated medallions honouring other NHL awards.
a 48-page book written in collaboration with the Hockey Hall of Fame.
a numbered certificate of authenticity.
a bonus VIP box to house all five albums in the series. Albums from other years are not included.