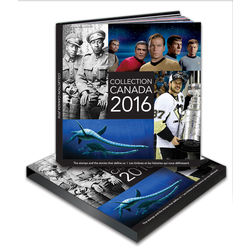 Canada Post - Annual Stamp Collection #59 - 2016 Collection Canada
SKU: COA-2016
Description
Yearbook of Canadian stamps

2016 Annual Souvenir Collection delves into the stories behind Canada Post's stamp issues with intriguing essays spanning the history, places, personalities and events that inspired the stamps. Annual collection #59.
Contains 59 mint stamps
Protective mounts to preserve your stamps
Cardboard slipcover to protect your album
From creatures with scales to sci-fi tales…
From birds that represent provinces and territories to the African-Canadian heroes of WWI, and from the Year of the Monkey to more dinos that once roamed this land, plus UNESCO World Heritage sites, hydrangeas, hauntings and more – Collection Canada 2016 showcases the stamps that reflected our country this year.
Within these pages, you'll find the story of our fore-mothers' struggle to win the right to vote, more images from the Canadian Photography series, a new portrait of Queen Elizabeth II, famous Canadian NHL® forwards, and of course, our featured stamp issue marking the 50th anniversary of the classic Star TrekTM TV series and its multiple Canadian connections.
---
Related Items