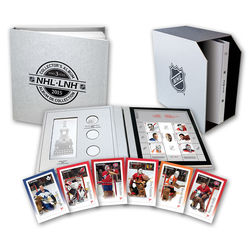 Canada Post - Thematic Collection #207 - 2015 NHL Collector's Album - 3 (2015)
SKU: COT-207
Description

A must for every NHL fan


The 2015 NHL Collector's Album honours six of the influential Canadian-born goalies who helped change the way the position is played, rewriting the NHL record book along the way.
One of only 10,000 - features these exclusive, special edition collectibles


career details of the six great Canadian goalies featured in this year's stamp release, including their contributions to the NHL and the Stanley Cup-winning teams they played for.
a commemorative pane of stamps of each of the six goalies, and special souvenir sheets for all six.
a silver-plated plaque of the Vezina Trophy
medallions honouring three other NHL awards; the William M. Jennings Trophy for the goaltender who allows the fewest goals, the Jack Adams Award for coach of the year, and the General Manager of the Year award.
a numbered certificate of authenticity and contains a 48-page book written in collaboration with the Hockey Hall of Fame.
a bonus VIP box to house all five albums in the series. Albums from other years are not included.