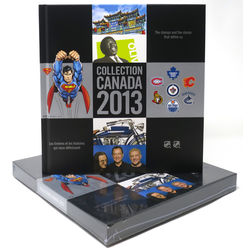 Canada Post - Annual Stamp Collection #56 - 2013 Collection Canada
SKU: COA-2013
Description
Yearbook of Canadian stamps

Annual Souvenir Collection mounted in a nice book containing all the Canadian stamps issued in 2013, as offered originally by Canada Post, with a description and history for every stamp.
A tribute to Canada's people ans passions
From Superman's fantactic exploits to the gates of Canadian Chinatowns, Collection Canada 2013 commemorates and celebrates Canada's cultural and historical achievements.
This edition includes almost every Canadian stamp design issued in 2013. You'll find stories about musical legends such as RUSH and Oliver Jones, novelist Robertson Davies and pet adoption. Also featured are the stories behind stamps Showcasing classic Canadian motorcycles, our National Hockey League teams and the 100th anniversary of Big Brothers Big Sisters of Canada.
Included in Collection Canada 2013:
historical images and stunning photographs by some of Canada's most creative professionals
more than $59 in mint stamps
protective mounts to keep the stamps safe.
---
Related Items