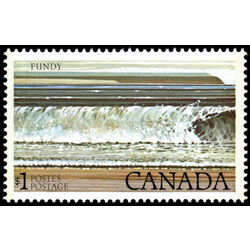 Canada Stamp #726 - Fundy National Park (1979) $1
Plate 1
SKU: CAN-0726
Mint - Very Fine Never Hinged - Colour Shift
(M-VFNH-012)
Nice large $1 high value Fundy definitive with a noticeable leftward printing shift of the black engraved inscriptions causing the "$" to wrongly appear inside the left margin of the stamp! Errors on the large definitives are always impressive and this is a great one to show to your philatelic friends!
---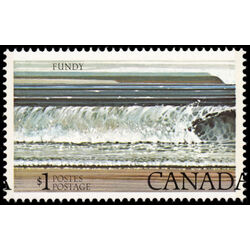 Mint - Very Fine Never Hinged - Colour Shift
(M-VFNH-013)
Very impressive error on the large Fundy $1 high value definitive where the engraved black inscriptions were drastically shifted right causing the "A" of "CANADA" to be split in half by the perforations on the right!!!
---
Mint - Very Fine Never Hinged
(M-VFNH)
---
Plate Block (Upper Right) - VFNH
(PB-UR)
---
Plate Block (Lower Right) - VFNH
(PB-LR)
---
Full Pane of 50 stamps
(M-PANE)
---
First Day Cover
(FDC-003)
---
Description
Fundy National Park
| | |
| --- | --- |
| Country | Canada |
| #Scott | 726 |
| Issue | High-Value National Park Definitives |
| Name | Fundy National Park |
| Face Value | $1 |
| Date | 1979-01-24 |
| Variety | Plate 1 |
| Colour | Multicoloured |
| Perforation | 13.3 |
| Tag | GT2 - Gereral Tagging on two opposite edges |
| Printer | Canadian Bank Note Company |
---
Related Items