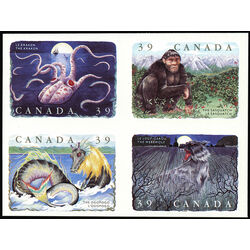 Canada Stamp #1292b - Canadian Folklore-1 (1990) 4 x 39¢
Imperforated se-tenant block of 4 stamps, only 50 known to exist!
SKU: CAN-1292B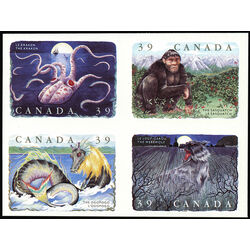 Mint - Very Fine Never Hinged
(M-VFNH-003)
Extremely rare imperforated se-tenant block of four, of which only 50 blocks are known to exist! A superb addition to any advanced collection, it is listed for a whopping $2,500 in the catalogue!!! These fours stamps are among some of our favourites from the 1990s, with some absolutely gorgeous colourful artwork, so this imperforated plate block is simply the icing on the cake on these!
Cv. $2,500.00
USD $1,245.00
---
---
Mint - Very Fine Never Hinged
(M-VFNH)
---
Description
| | |
| --- | --- |
| Country | Canada |
| #Scott | 1292b |
| Issue | Canadian Folklore-1 |
| Name | Canadian Folklore-1 |
| Face Value | 4 x 39¢ |
| Date | 1990-10-01 |
| Variety | Imperforated se-tenant block of 4 stamps, only 50 known to exist! |
| Colour | Multicoloured |
| Perforation | Imperf. |
| Paper | PP - Peterborough Paper Converters Inc. (greenish gum) |
| Tag | GT4 - General Tagging along all edges of stamp |
| Printer | Ashton-Potter Ltd. |